Dear Colleagues,
We warmly welcome you to the 4th Annual Conference of Movement Disorders Society of India - MDSICON 2019, which will be held from 22nd - 24th February 2019 in New Delhi, India.
The science of movement disorders is expanding rapidly. A journey from basics to the most recent therapeutic drug approved, this 3 day conference strives to provide a bird's eye view on the pathophysiology, clinical features and management of movement disorders. In this endeavor we are fortunate to have a panel of International and National speakers who will share their experience and expertise.
The conference will be valuable for neurologists, neurosurgeons, psychiatrists, neuroscientists, physicians and research scholars interested in movement disorders as well as residents from neurology and psychiatry, from India and abroad.
We cordially invite you to participate in this conference and send in your abstracts for poster/platform/video sessions. Best presentations will be awarded prizes. We are sure you will have a wonderful, fruitful and memorable stay at New Delhi.
Looking forward to your presence at MDSICON 2019.
With warm regards,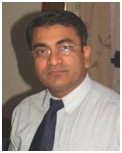 Prof. Vinay Goyal
Organising Secretary
Email: mdsicon2019@gmail.com